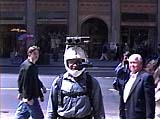 Click here for an example of Interlaced
To order "LCS" Glasses, click here!
---
JPS

Another option is 'JPS'. 'JPS' images require software which can be downloaded for free. Once installed, the software gives you the choice of viewing pictures in 'cross-eyed' or 'parallel' "free-viewing" formats, or with 'red/blue' or 'red/green' "anaglyph" glasses, or with electronic "Liquid Crystal Shutter" (LCS) glasses from several manufacturers.

'JPS' images are best viewed using Depthcharge 2.5 software from VRex. (Currently compatible with PCs, not MACs.)
Click here for a sample JPS image.

If you have not installed the correct software and you select 'JPS', a 'puzzle piece' will appear.
In this case, download and install Depthcharge 2.5 and try again.
---
JPS Hi-Res

In two locations on my web-site, (Sailing and Figure Studies), I have included examples of high resolution 'JPS' image-pairs. They are from 133k to 331k in size, and will take some time to load.

They are intended to demonstrate the image quality which is possible when the files are retrieved from a CD-ROM. Even so, they have been compressed for Internet use. In addition, you may need to readjust your screen resolution in order to view the pictures in their entirety.

Click here for a maximum resolution JPS - (357k).
---
Buy Glasses | Home | Figure Studies | Sailing | On the Road | 3D Video | E-Mail
---
All materials on this site Copyright&copy Ray Hannisian 1995-'07