These are wireless LCS glasses. They are sturdy, compact and lightweight. This is important for prolonged video viewing. They fit comfortably over prescription eye-glasses. They have efficient "shutters", and clear optics. And, they are reliable and inexpensive.
The infrared transmitter connects to your VCR. It is capable of controlling a room full of wireless LCS eye glasses. It has a convenient "stereo / reverse stereo" or "field-swap" switch, allowing the viewing of both 'Right' and 'Left' "field-first" formats of 3D video. It provides a "Rock Solid" 'synch' to video signals, (even weak ones)!
NOTE: This is a "VFX" system. It includes a 2D to 3D conversion circuit. I recommend it ONLY for use with genuine stereoscopic video content.
Click here for more information about 2D to 3D conversion.
If you are interested in stereoscopic computer applications, check additional products listed below.
---
"Wireless 3D Video Home Theater"
Two pairs of wireless "LCS" glasses, IR "transmitter" and instructions.
(Configured to work with video only!)
$109.95 + $12 S&H
---

"DLP" style Shutter Glasses and IR Emitter
Compatible with the new SAMSUNG and MITSUBISHI DLP HD Monitors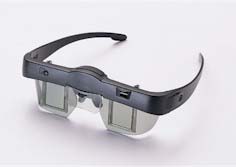 Two pairs of wireless "DLP" style LCS glasses, and one long range DIN3 IR Emitter.
Compatible with the new SAMSUNG "3D ready" DLP HD monitors.
(Although listed under "Video Systems", because these DLP set are "televisions", these new monitors are currently driven via HDMI inputs from computers.)
$149.95 + $12 S&H
---